Friday, October 13, 2023 / by Becky Trujillo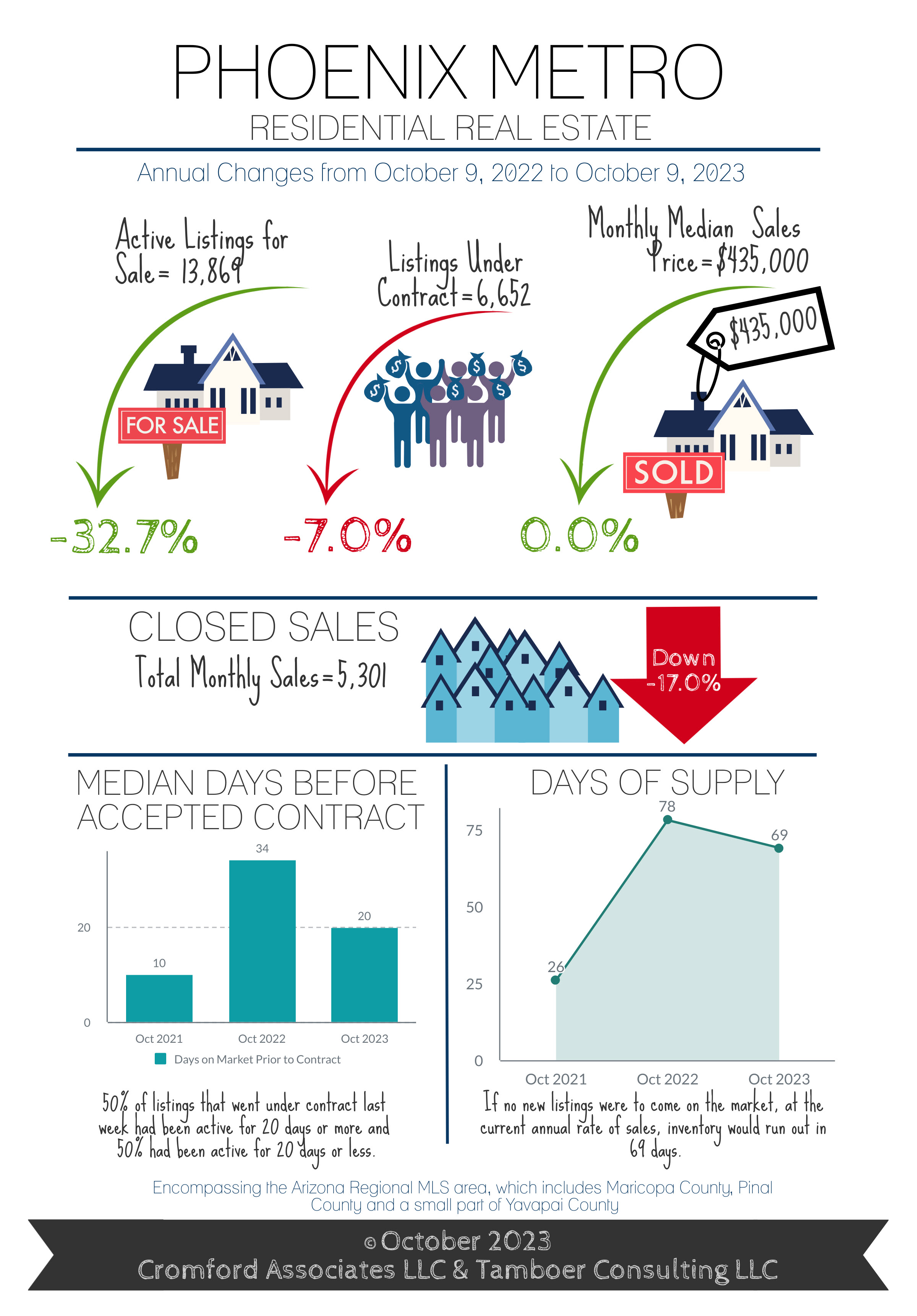 Back to the 80's? Loan Assumptions, Rate Buy Downs, and Incentives
More Choice for Buyers: Supply Up 22% in 10 Weeks
For Buyers:
The 4th quarter is here, and this is the best time of year to be a buyer in Greater Phoenix! Inventory continues to rise, up 22% in 10 weeks to be exact, and price reductions typically peak in October and November. Most sellers listing in October are motivated to close on their homes before the end of the year, but few are more motivated than builders. New homes make up 22% of active MLS listings and 29% of Maricopa and Pinal County August sales. Builder incentives are including not only closing cost assistance but select upgrades and significant permanent and temporary rate buy downs. For perspective, let's use a $350,000 loan. If a buyer uses the seller's or builder's closing cost assistance to buy down the mortgage rate by 3% it would save more than $650/month on their payment. Buying the rate down by 2% saves $450/month.
Builders are not the only ones with incentives, however. Last month, 45% of all closings through the Arizona Regional MLS involved sellers paying buyers' closing costs with a median of $8,500, about the cost of a 2/1 temporary buy down on a $365,000 loan. Buyers would be smart to consider areas with heavy competition between builders. The cities of Coolidge, Maricopa, Tolleson, and Laveen collectively saw 70% of sellers agree to closing cost assistance with 50% of them paying out $10,000 or more.
First-time home buyers may feel like the difficulties they're facing in today's housing market are unique and unprecedented. However, high rates like today bring out tools and opportunities for buyers that only emerge when the market is stressed, and they disappear when the market recovers. Baby Boomers, considered to be the wealthiest generation today, didn't have it so great when they were in their 20's and 30's. In the midst of building their careers, growing their families, and purchasing homes, the economy experienced 4 recessions, 4 rounds of high unemployment, and mortgage rates that soared over 10 years from a low of 7% to 18%; it took another 10 years to get back down to 7%. During that time, home sales were low but home values did not decline, similar to today. Here are some stories about how a few of our Baby Boomers and Gen-Xers purchased their first home:
· Mike, 72yo - first home in 1976 for £9,600 at 8.25%, gifted down payment from family and rent-to-own appliances. Sold it 3 years later for £19,000.
· Tom, 68yo - bought his first home in the 70's together with 3 friends at 9% as tenants in common.
· Chris, 58yo - first home 1989, paid a distressed seller $4,000 and took over their FHA mortgage payment
· Thomas, over 59yo - first home was a distressed HUD foreclosure he bought for $55K and fixed it up himself
· Michael, 66yo - sold his boat and car to purchase his first home at 8.5%
· Raejean, 57yo - purchased her first home in 1985 at 16.5%
· Kathleen - purchased in 1979 with gifted down payment and 3-2-1 rate buy down
· Kathryn - first home in 1981, interest rates were 18%, but she assumed the seller's VA loan at 6%
· Nick - bought first home in 1988 with his brother, assumed the seller's VA loan with $4,500 down and got a roommate to help make the payment, didn't care about the rate
· Jon - first home in 1981, assumed a VA loan at 10%, seller financed the rest at 10%. Existing rates were 18%
Each one said their decision to buy their first home was a good one in hindsight, even though money was tight and rates were high. Especially today, it's highly recommended to consult with a Realtor® and a lender who is fully aware of available loan programs, FHA and VA loan assumptions, seller incentives, down payment assistance, and other tools designed to help you on your way to home ownership and building wealth.
For Sellers:
The seller market is weakening in the wake of rising mortgage rates as we head into the 4th quarter. Greater Phoenix is still in a seller's market, but at the current rate of decline it could see a balanced market by year end. This means that sellers should allow for longer marketing times, improving the condition of their homes prior to listing if necessary, and staying open to funding rate buy downs. Prices are holding tight and are not expected to decline significantly for now.
Commentary written by Tina Tamboer, Senior Housing Analyst with The Cromford Report
©2023 Cromford Associates LLC and Tamboer Consulting LLC



---